How to Navigate the Pandemic Marketing Labyrinth and Drive Sales/Leads This Festive Season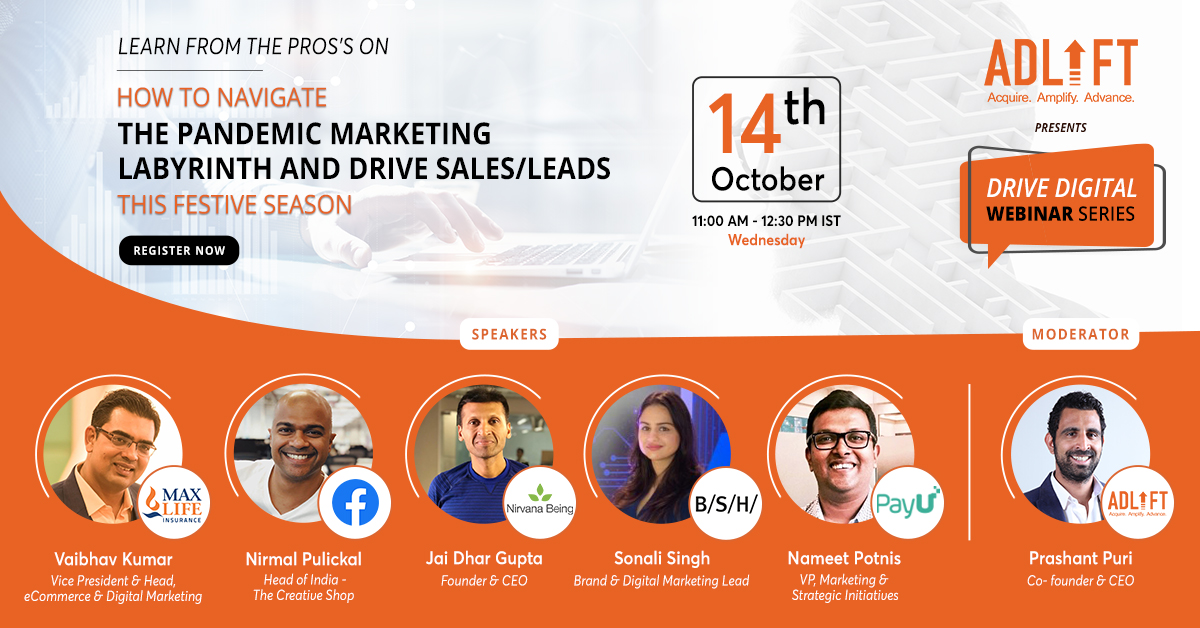 AdLift successfully held the second edition of its Drive Digital Webinar Series, with an action-packed agenda. A panel of marketing experts from across industries shared their views on industry best practices to address how you can drive sales/leads this festive season. Panelists included: Vaibhav Kumar: VP & Head, #eCommerce & Digital Marketing at Max Life Insurance Company Limited, Nirmal Pulickal: Head of India – The Creative Shop at Facebook, Sonali Singh: Brand & Digital Marketing Lead at BSH Home Appliances Group, Nameet Potnis: VP Marketing & Strategic Initiatives, PayU, Jai Dhar Gupta: Founder & CEO, Nirvana Being. The session was led by Prashant Puri, CEO & Co-Founder, AdLift (Moderator).
The discussion began with varied views on, "Eight months into the pandemic, a lot has changed, from evolving trends to changing consumer behaviour, what are some trends that we are seeing in the different sectors across markets?" Vaibhav Kumar of Max Life Insurance shared that there are currently three big trends. One, remarkable acceleration in digital consumption, increase in purchase of term insurance, and risk products. He added that they have acquired a fourth of their new customers digitally in the last 6 months. Second, huge hyper value consciousness and preference for bite sized propositions. Because so many of us are working from home, there's a noticeable increase in willingness to pay for things that matter most, for protection products & guarantees (when it comes to insurance). Third, this new remote way of living and working has resulted in a heart to heart selling approach.
Responding to the question, Nirmal Pulickal from Facebook said that now there is constant acceleration of existing trends, more smart shopping, increase in ecommerce, payments and high salience of digitally influenced purchases. He also added, "There has been a 20% increase in digital induced purchases in the last 3 months. New habits are being formed, there's more familiarity with virtual experiences like Facebook live, we are seeing a lot of value conscious utility spending."
Nameet Potnis of PayU said that overall payment processing, in terms of businesses picking up, a few big categories are bouncing back (like food deliveries) as a result of significant behavioural change in consumers. "It's a sustained graph, not just a spike. People are now more comfortable ordering online. There is more conversational commerce now. Lot of people have been pushed to adopt digital media, during the lockdown. People want to stay away from cash & transact digitally." He also emphasised that large brands are trying to figure out how to make the best of this change using the tools and ecosystems available for them to come out significantly transformed.
Sonali Singh from BSH Home Appliances Group further added that currently there is a phenomenal surge in demand and consumption for home appliances. "The way we use home appliances has changed during the last few months. Our brand is now engaging with the consumer more than ever."
Jai Dhar Gupta of Nirvana Being pointed out, "There is a big paradigm shift in our country right now. Hygiene & well-being were never in our top priorities, but now are. The much-needed focus on health & hygiene that has come out of this pandemic, it's here to stay."
The conversation then moved to content marketing and how important it is from both, an 'always on' perspective and a seasonal (festive) perspective. Mr. Potnis began said, "At PayU, we believe strongly in content. Content creation, distribution & augmentation. Ensuring it's available across all platform where our prospective customers, users might be, this investment in content is with a long term view. It increases our sphere of influence, takes us higher up the conversion funnel. People experience us as a brand before they think about going into payments. Now we think about how we can put enough content out there without expecting conversion but genuinely put together helpful content with an intent to give back rather than drive a purchase/sign up."
He added, "We have created 600-800 topic specific blogs over the last 2 years. Almost 80% of our leads, as a result today, are organic. Organic leads end up behaving better once they're in the funnel because they found us, read about us, they believe in our story & they believe we can add value to their business." He disclosed that the quality of leads generated from content activities is high. "As a brand, we're building a community. At PayU, we are cognizant of how content pays off & we invest heavily in it. The expectation behind this is not always conversion, the intent is also to educate."
Mr. Kumar agreed with these practices and results they're bringing across industries. "About 20% of our converted customers engage with our blogs & content organically before purchase. Content becomes an assistant to the conversion engine. Any consumer today, given the current situation is unwilling to purchase without consuming content or taking a reference first. Especially in the insurance category, nothing works better than referrals and relevant content."
The panel then discussed ad trends during festive seasons. How do ads drive more engagement overall? Mr. Pulickal pointed out that there are good trends and there are bad trends. "There's an increased use of CGI over the years, especially for Instagram. There's been a constant rise in consumption of virtual experiences right from music bands to documentary films, and live streaming. Interactive activities like polls, AR filters, stories have shown incredible engagement with the consumers. There's an increased use of bots too." He summarized that regardless of whether the final purchase is happening online or offline, a majority of purchase decisions today are influenced by online activities which goes on to prove that the right kind of ads on the right platform are crucial during the festive season.
Putting forth her view on what platforms works best for brands during the festive season, Ms. Sonali said, "The focus is to reach out to the consumer in the best possible way using the right platform, depending on the brand's objective. New platforms like Google Discovery Ads work well. Live testimonials bring phenomenal results in the appliance category. The virtual medium is great to convert new launches. The question isn't what to choose from between Facebook and Google but what works best according to a brand's marketing funnel because we need to reach out to the customer at every stage and not just for sales. We have to keep them interested constantly."
Mr. Gupta of Nirvana Being advocated for constant results shown by Facebook. Mr. Potnis of PayU insisted that all platforms have something to offer. "Facebook, Google, Amazon, LinkedIn – depends on what the intent is. Currently, we use all these platforms. Doubling Google's efforts with YouTube helps build brand affinity. Facebook has great targeting, which helps narrow down the audience. Instagram is giving strong ROI to our merchants." Everyone in the panel agreed that Facebook & Instagram can target based on specific keywords & interests which leads to quick conversion.
The last topic of discussion was influencer marketing. Mr. Prashant Puri urged the panel to talk about investing in influencer marketing and if it really works. All the experts discussed how influencer marketing can be utilized for a brand and if it fits under brand management or performance.
Mr. Kumar believes influencer marketing for a brand led message works better than for a performance led message. "The critical thing is that the influencer should be leveraged for their own persona to blend with your brand's larger message." To which Mr. Gupta added, "We need to find people who represent your values, who care about what you care about. Influencers who really resonate with the brand and its beliefs will work."
Everyone in the panel agreed with Ms. Sonali when she said, "Influencer Marketing is one of the most effective mediums in my marketing mix because in our case most of our influencers are consumers as well. Both celeb influencers and micro influencers are important. It also depends on what season are you using influencer marketing in. Brand exposure to any category is effective and convenient when planned well. A big advantage of influencer marketing is that it can be used across diverse audiences and gets the brand more followers and gradually increases leads."
The informative session ended with an engaging Q&A
Transform
your business
Crush your business goals with a custom marketing plan.