Google Rolls Out December 2022 "Helpful Content" Update

In the works since 5th December, Google has rolled out its December 2022 "helpful content" system update. It is the first major update since the release of the August 2022 update. As per the organisation's estimation, it will take about two weeks for it to roll out completely.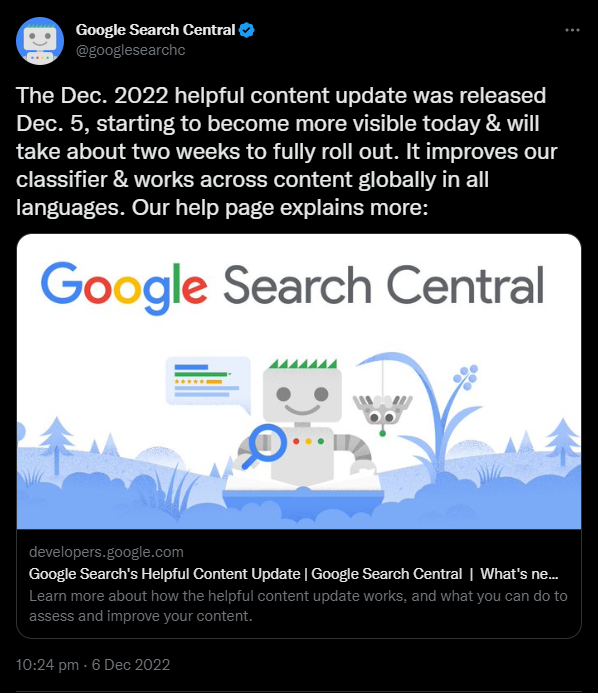 Source: Twitter
The December Content Update
Google's helpful content method generates a signal that Google's automated ranking algorithms use to show users in search results what it believes to be unique and helpful information "authored by people, for people." The system's classifier is enhanced by this particular update, which functions with content in all languages.
How Does it Work?
The helpful content system seeks to better reward content where users feel they have had a positive experience, whereas content that falls short of a user's expectations would perform worse.
In addition to numerous other signals, the algorithm produces a site-wide signal that Google will take into account when ranking web pages. Their computers detect content that appears to have minimal value, little added value, or is simply not very useful to users conducting searches automatically.
In the event that there is other content from the web that is better to display, any content—not only problematic content—on sites considered to have relatively high volumes of unhelpful content overall is less likely to perform well in search. The rating of other content can, therefore, benefit from deleting unhelpful content.
What Does it Mean for Your Site?
The content on a website is less likely to rank well in Search if Google discovers a significant volume of useless content there. Unhelpful content acts as poison for the rest of the website. According to Google, taking it down can improve the site's overall content rankings. After unhelpful content has been deleted, it may take months for Google to reclassify a website's content as helpful.
Bottom Line:
The goal of Google's helpful content approach is to promote websites made with users in mind rather than search engines. It attempts to elevate content that goes above and beyond what is widely available from other publishers and offers distinctive value to the web.
So, to make sure that you keep ranking well, make sure your content is unique and helpful. Read our previous blogs on the search engine's Helpful Content Update to learn more on how to make the most of it!
Get
in Touch
Contact AdLift for a 360-degree marketing plan