"Insurance should be perceived not only as a protection mechanism but more importantly as a partnership that allows individuals and businesses to spread their wings and go where they might otherwise not have dared to go."
– Geneva Association, The Social & Economic Value of Insurance, 2012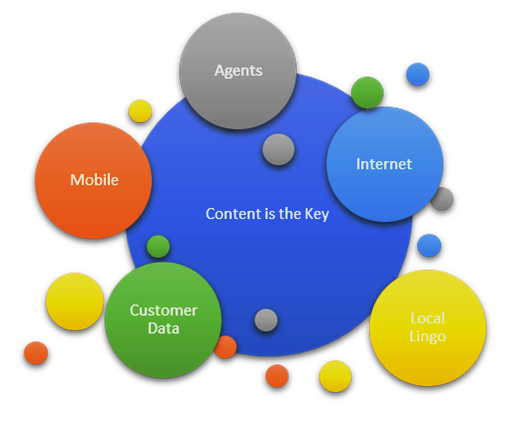 Insurance has been a mechanism of risk management for more than two centuries now. Yet, the level of attention it receives from relevant people (who can benefit from it) is far from satisfactory. Even a developing country like ours has seen more than 70 years of insurance in practice, and yet we stand far behind from the world average when it comes to widespread coverage of the population.
In this article, we will try to examine the possible causes for this dismal proliferation of insurance within our country and the world. We would like to present some relevant solutions that can be applied to the changing environment to improve the same in these markets, including India.
The Social & Economic Importance of Insurance
The 2012 paper, The Social & Economic Value of Insurance by Geneva Association has defined insurance and its social position very well.
"Insurance tends to address both hope and fear, the two most fundamental and connected human emotions. This way, insurance is an intrinsic part of a developed society. Insurance has the potential to save businesses from disappearing and families from falling into the cycle of poverty."
For example, a family being paid a large sum to continue their lives as it was, even after the death of the breadwinner, or business being compensated for the lost consignment for which the buyer will never pay.
Insurance has more pervasive value for the economic sustenance of today's society than it is given credit for. It is even much maligned.
Insurance Penetration in India vs the World
The insurance penetration is a measure used as a measure of the insurance proliferation within the country or an economic region. It is a ratio of insurance premium collected in dollar value to the dollar GDP of that country.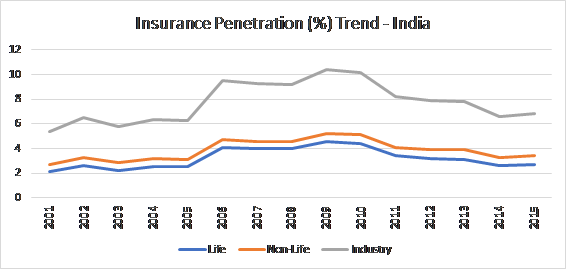 The world average for the insurance penetration has been around 4.5%. While Indian insurers have been able to touch that only once, few South Asian countries have been able to go far ahead.
Another measure of success for insurers is the insurance density; i.e. per capita premium collection in the country, where we lag behind all European, Asian and American countries. At $43.2 per capita, it is better than Asian economies excluding China, Japan & Taiwan.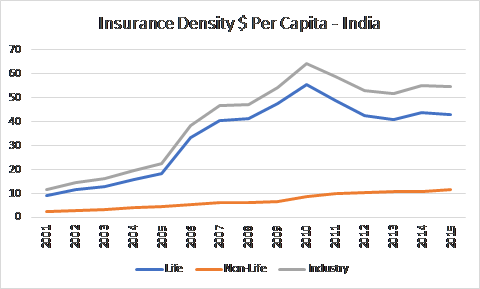 Reasons for Low Insurance Penetration
A Pre-launch Survey Report published by NCAER (National Council of Applied Economic Research) and IRDAI (Insurance Regulatory Authority of India), gave few insights into the reasons why insurance penetration is low in this country.
But, before we can explore this question, another question might arise in your mind, "Should insurance penetration be any higher, given the literacy levels and awareness about it?"
The answer is surprisingly positive. Insurance penetration should be higher given the literacy levels and awareness about it. The report clearly shows that people, whether insured or uninsured, are aware of the basic concept of insurance and its usefulness in their lives.
Majority of insured households know that insurance is a better tool for emergency than any other savings instrument
About equal number of households whether insured or uninsured see life insurance as a long-term savings and risk coverage tool
About 50% of both rural and urban household have heard about health insurance policies
Majority of both insured and uninsured household felt that insurance is relevant for all classes
However, there are a few missing links and clues that could point to the leakages:
Agents are the primary source of information about insurance for all households. A whopping 75% households have bought insurance because of agents' advice
Majority of households in both segments perceive 'accidents' and 'untimely death' as the two events relevant to insurance
About 13% of uninsured population feels that insurance is only relevant for the rich while another 25% have no idea about it
About 50% of uninsured population feels that insurance is neither a savings tool nor a protection tool
This population also does not know about the kind of losses insurance can compensate for or to what extent
Top three reasons given by the surveyed households for not buying any form of insurance as per the report are:
It's too expensive
Product range is limited
It's not important enough
The cost point has been elaborated in another section which compares the income levels of insured and uninsured households. The uninsured households had significantly lower annual household consumption than insured population.
The report finally concludes that the problem with the distribution channel are three-folds:
Agents are unable/unwilling to explain the product in detail
Documents are too complicated to understand
Agents seem to be only concerned with their commissions
How Can Penetration be Improved?
This part is basically about developing and nurturing new markets. Let us first look at the takeaways from the pointers above:
People are aware of insurance as a financial protection tool but unaware of the diversity of the tool
There are few other channels which can offer unbiased insurance related information to people; i.e. third party or regulatory publications
Documentation can be simplified for the people
Possible solutions, which have been implemented, for example, workshops, investor awareness programs etc. are long term solutions which may start bearing fruits in some time. Insurers need a short-term solution which can improve their business from day one, and there are few ways to do so:
Mobile Promotions
Digital Marketing Campaigns
The idea is to offer the detailed information about the:
Specific insurance product
At the right moment
To the right person
The Key Enablers
The key enablers based on the points given above can be:
Content

More informational
Local language

Promotion Strategy

Capturing Customer Data
Real time mobile or Internet Marketing

Sustaining the Growth

Agent training
Customer & Agent engagement programs
Updated knowledge base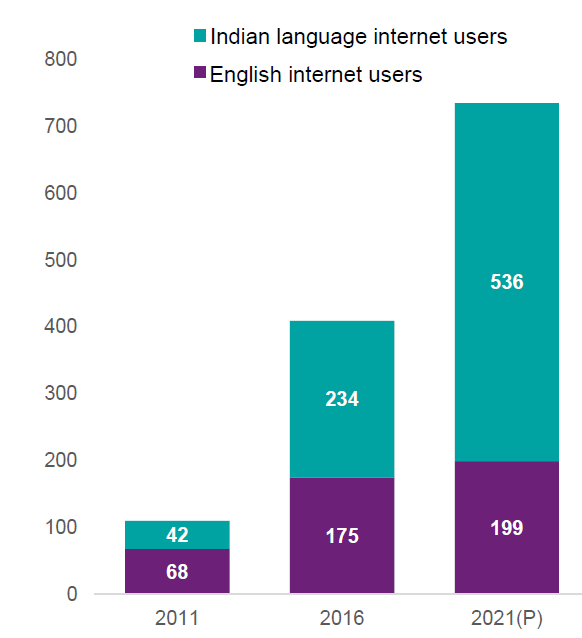 An article published by Strategy&, a PWC mouthpiece, compared the daily pageviews related to the media and entertainment segment in USA and Africa. The difference is staggering - 282 per user in the USA vs 32 per user in Africa. The reason is simple, availability (or unavailability) of local content.
Till 2000, it was regularly predicted that the internet users must adapt to English and the English userbase will grow with the internet, and it did. But things changed fast once more and more users speaking the same native language started coming online. The scenario in India has evolved as shown in figure 3.
Another indicator of how powerful local language content can be the creation of Wikipedia pages in multiple languages (figure 4).
Customer Engagement with User Generated Content
Another point in promotional campaigns that insurers can catchup with is the growth of OTT channels. OTT channels like YouTube and WhatsApp are not content creators. They simply leverage the UGC.

In case of life insurers and savings plans, it can be understood that consumers may not share their story for confidentiality reasons. But in case of other insurance claims including health insurance insurers can leverage the consumers' stories.
Eventually, the claim is the zero hour for the user experience for the insurance consumers. Thus, leveraging
User stories of purchase, renewal and claim experience, and
Agent's stories of service and selling experience and challenges
Can open a steady stream of highly localized and engaging content for insurers.
So far public-sector insurers like LIC are the only ones with some content available in local languages, especially Hindi. And their growth story and market share speak for it (figure 5).