A Beginners Guide to Ahrefs Keyword Explorer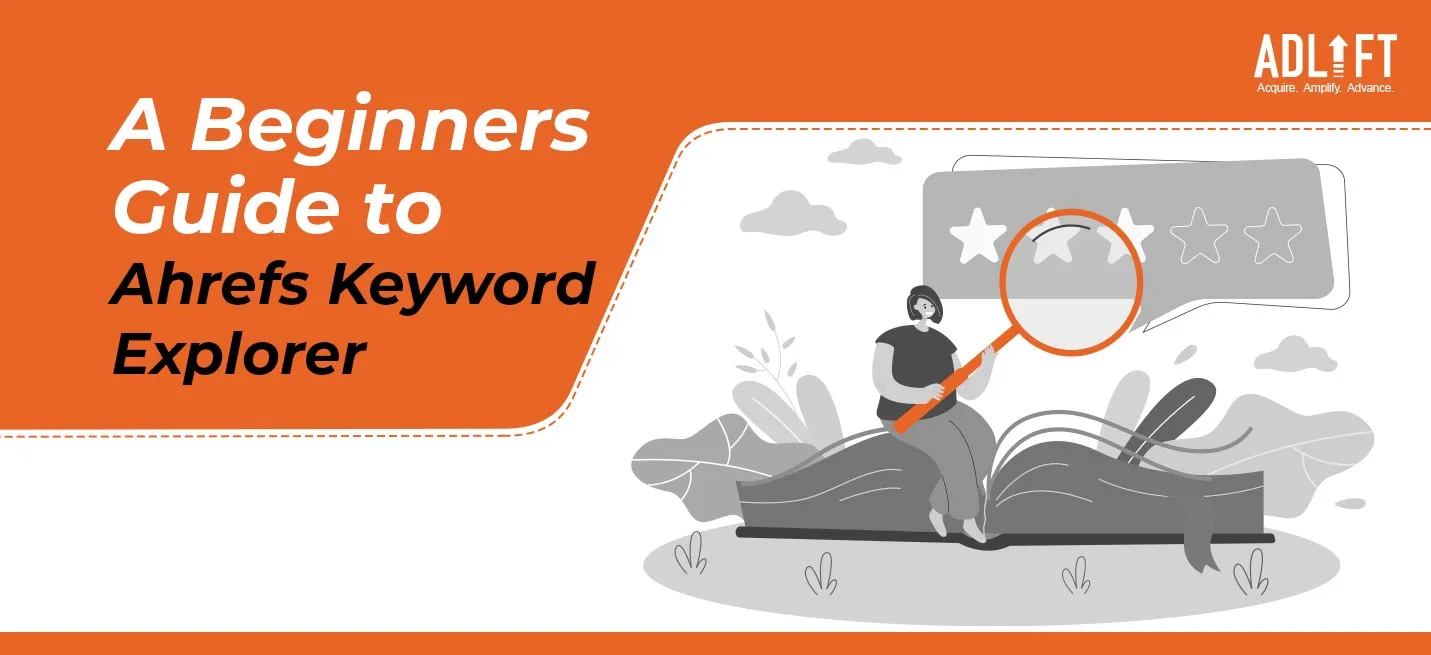 A keyword is a fundamental part of effective SEO. We know it helps drive our traffic up and drastically improve our organic search rankings. Without keywords, there is no SEO! Businesses and marketers are always on the look for that perfect keyword to drive their SERP rankings.
Currently, many tools can help you discover the relevant keywords for your content; one of these is the Ahrefs keyword explorer. This tool is the holy grail for many SEO marketers looking for the best keywords. So,without further ado, let us understand how this tool works and how it can benefit your business.
Ahrefs Keyword Explorer: Learn the Basics
The Ahrefs keyword is an all-in-one link-building, keyword research, rank tracking, and site auditing software tool. (We told you, it's the SEO holy grail!)
Compared to its rivals, Ahrefs is user-friendly and easy to navigate. Sure, you'll get comparable statistics and various features from other industry tools, but Ahrefs provides the most comprehensive collection. In addition, you can manage all the stats for your website in one place, thanks to the diversity of tools available. All of its competitors fall short in this area.
What Is the Purpose of Ahrefs Keyword Explorer?
Ahrefs keyword explorer helps you discover thousands of relevant keywords, analyze their ranking difficulty, and calculate their traffic potential.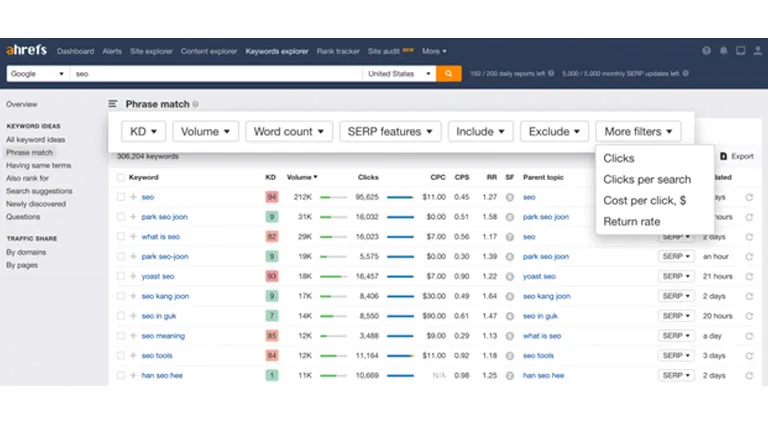 Apart from the Ahrefs keyword explorer,other Ahrefs tools can be used for various purposes. One such tool is their site explorer.
Every business owner is interested in how their rivals are faring.
Do they have more website visitors than I do?
Is their traffic increasing, or has it reached a halt?
Will I surpass them at my current growth pace, or do I need to put in more effort?
By displaying the amount of search traffic your competitors receive and comparing your search traffic to theirs, Ahrefs' Site Explorer can help you find the answers to these questions.
Now moving back to the quest for the perfect keywords!By now, you must be wondering How does Ahrefs keyword explorer work? The Ahrefs Keywords Explorer helps you find thousands of relevant keywords that you might wish to target and allows you to determine the popularity of any search query.
For instance, in the United States alone, there are 6.5 million Google searches per month for the term "bitcoin." Additionally, around 25 million searches are done for this term globally.
Now you might argue that ranking at the top page on google for the keyword 'bitcoin' is wishful thinking because of the fierce competition,making this target almost impossible to achieve. But there are also plenty of related keywords that contain the term 'bitcoin.' Your new or existing website can easily rank on these related keywords. The matching terms on Ahrefs keyword explorer give you around 558,968 keywords containing bitcoin. This list is ordered by its monthly search volume.
For more related keywords, you can also check out the 'related terms' section in the Ahrefs keyword explorer,which shows you keywords relevant to 'bitcoin.'These keywords might not directly have the word bitcoin in them, but they are somehow related. Some examples are blockchain, cryptography, mining, etc.
Why Should I Use Ahrefs Keyword Explorer?
Being skeptical about choosing a particular tool for your keyword quest is natural. After all, keywords play a crucial role in determining your search ranking and your overall website traffic. However, finding the right keywords is no joke; it takes time and effort to find the right ones.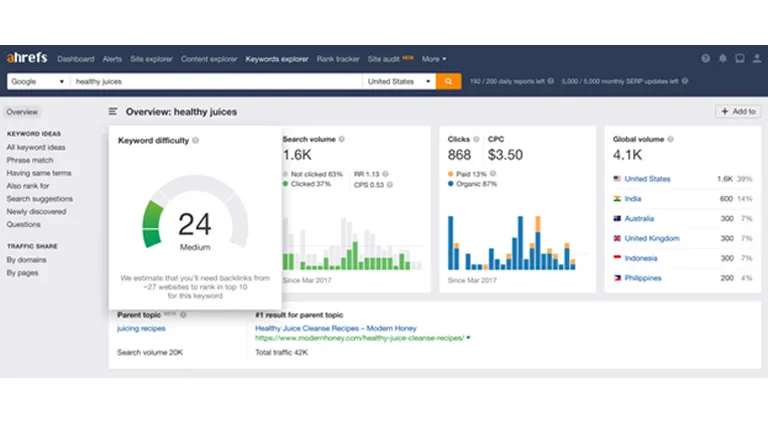 Ahrefs keyword can make your job easy! It helps you determine how hard it would be for your website to rank in the top 10 search results for a given keyword. It accomplishes this by calculating a Keyword Difficulty score ranging from 1 to 100, with 100 being the most difficult.
SEMrush vs. Ahrefs: Which Is Better?
It's time for the ultimate battle of the stars! SEMrush vs Ahrefs!Formidable opponents, let the battle begin!
Each software allows the user to conduct thorough keyword research. All you have to do is type in your keyword, and this software will present a list of related and long-tail keywords.
In the case of Ahrefs, users get click data in addition to search data. So, in addition to the number of searches, it calculates how many clicks you might obtain for a particular keyword. This data comes in handy to marketers when determining whether the page they create to target that keyword is likely to result in the necessary number of conversions.
Unfortunately,SEMrush doesn't provide click data, but it does provide valuable data for PPC campaigns. You can see organic and paid search results when conducting keyword research. This data isn't immediately beneficial for organic efforts, but it is helpful for search engine marketers wanting to improve performance through paid search advertising.
Use Advanced Metrics for Deeper Insights
Ahrefs keyword explorer has many advanced metrics for a deeper insight; these are:
Clicks — displays the average monthly number of clicks on your target keyword's search results.
Clicks Per Search — displays the average number of distinct search results that individuals click after searching for this keyword.
Percentage of Clicks — displays the percentage of searches for a specific keyword that result in clicks on the search results.
Percentage of Paid Clicks versus Organic Clicks – displays the distribution of clicks on search results between paid and organic results.
Return Rate – a unique Ahrefs indicator that examines which keywords receive the most repeat searches on a scale of one to ten.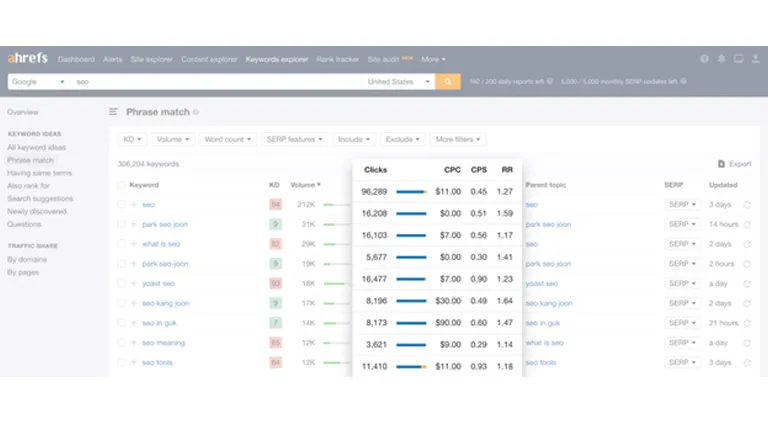 As mentioned earlier, Ahrefs is an all-in-one SEO tool. You can use any of these features in your SEO optimizations. In addition, some of their advanced metrics for a deeper insight are site explorer, SERP overview, rank trackers, and site audits.
Conclusion
You probably understand that keyword research is critical in determining your site'sSERP ranking. However, finding the right keywords can become a cumbersome task if you don't make use of handy tools like Ahrefs keyword explorer. This tool can help with keyword research from start to finish.
Sometimes, you might think that keyword research is arduous to undertake all by yourself. In such situations, you can avail of the services of a credible SEO agency like AdLift. At AdLift,we help conclude your quest for the perfect keywords using tools like Ahrefs and SEM rush to bring you the pick of the litter. In addition, we utilize high-quality keyword research to make some of the most potent targeted modifications that will ultimately improve your site ranking and generate traffic.
Get
in Touch
Contact AdLift for a 360-degree marketing plan