A Sneak Peek Into SEMrush Site Audit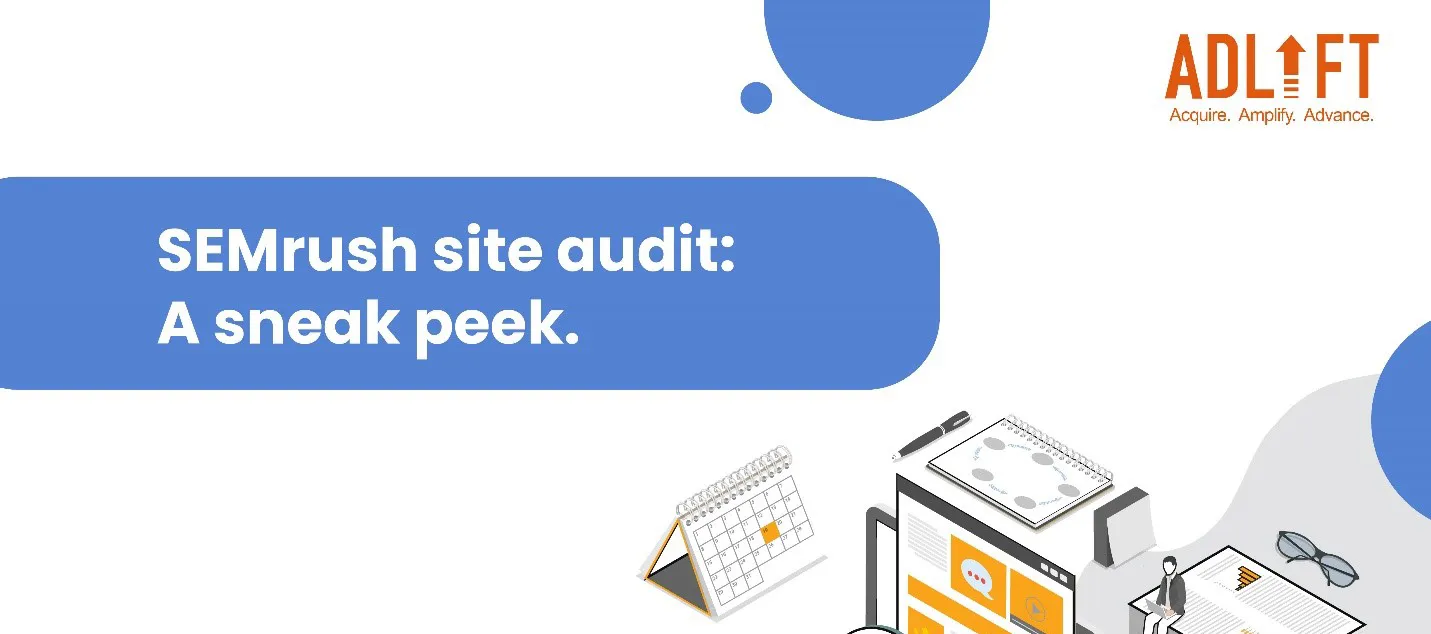 Welcome to the world of SEO. We're glad you're here.
And your presence indicates that you already have a good understanding of what  SEO is and how it works. Lookslike you want to take the next step and focus on improving your SEO strategy.
But before you do that, you need to know how your current strategy is performing.
While conducting an SEO audit isn't easy and feels like a puzzle with several moving pieces, a SEMrush site audit can help check and address issues easily. This way, you can modify and improvise your current SEO strategy.
SEO Audit: What Does it Mean?
When you identify issues or errors that prevent your website from ranking in search engines, such as Google, it is known as an SEO audit.
There are multiple parts of an SEO audit, including –
Ensuring the right crawlability and indexing of the website
Checking the website for on-page issues
Analysing off-page SEO potential
Ensuring that the website offers a good user experience for mobile and desktop users
Optimising the content with keyword incorporation
Skimming through for duplicate content
Maintaining detailed reports to track the website's performance
But Why is An SEO Audit Important?
Before you ignore doing an SEO audit, here are the possible issues you may face without it.
Website issues can make you lose organic traffic
You can lose out on sale opportunities
Your website will be improperly indexed, which means searchers won't be able to find it in search engine
You may get penalties from Google
Precisely, getting a SEMrush site audit can help identify problems that could have the potential to make you lose traffic and sales.
What Does SEMrush Site Audit Do For You?
You might be able to identify a person's weakness by mere observation but to do the same for a website, you need an SEO audit tool like SEMrush.
Here are the benefits of using SEMrush site audit.
Identifies Technical Issues 
An SEO audit helps identify technical issues. Consider technical SEO as building a solid foundation when SEO is considered as building a house.
Technical SEO helps search engines to properly crawl your website. Let's check out the elements an SEO Audit can help identify:
Does your site take longer than expected to load? If yes, it may not be good as Google considers your website speed. This is because Google takes UX very seriously!
Did You Know?
40% users wait no longer than 3 seconds to leave a website.
A fast-loading website provides a positive experience to the users, while a slow loading website can annoy them.
When it comes to redirects and errors, they should be non-existent on your website. Redirects can slow down the user experience, while 404 acts as a roadblock.
Make sure that the URL should be short and descriptive.
Crawlability means the search engine's ability to crawl your website. You can improve the crawlability by using the robots.txt file and having a dynamic sitemap.
Identifies On-Page Issues 
A website audit also optimises your content. It will cover the following elements.
Internal Linking – Internal links help users better navigate your website.
Meta Titles and Descriptions – Meta titles should have 35-70 characters and include the primary keyword. Also, the meta description should be under 160 characters and include the keyword.
Content – Content is an important SEO element. Make sure your content contains relevant keywords. Keep the keyword incorporation subtle and never overload the content with keywords.
Headers – Make sure the header is short, crisp and contains a keyword.
Identifies Backlinks 
The more backlinks your website has, the better your site will rank. Backlinks are crucial for your website as they signal to the search engine that other sources findyour content valuable.
Did You Know?
The more backlinks a webpage has, the more organic traffic it gets.
Helps Build an Effective Content Strategy 
After getting all the data from the last 3 points, what do you do? Take everything you need and then form a solid content strategy that can help get the audience's attention.
How to Use SEMrush Site Audit?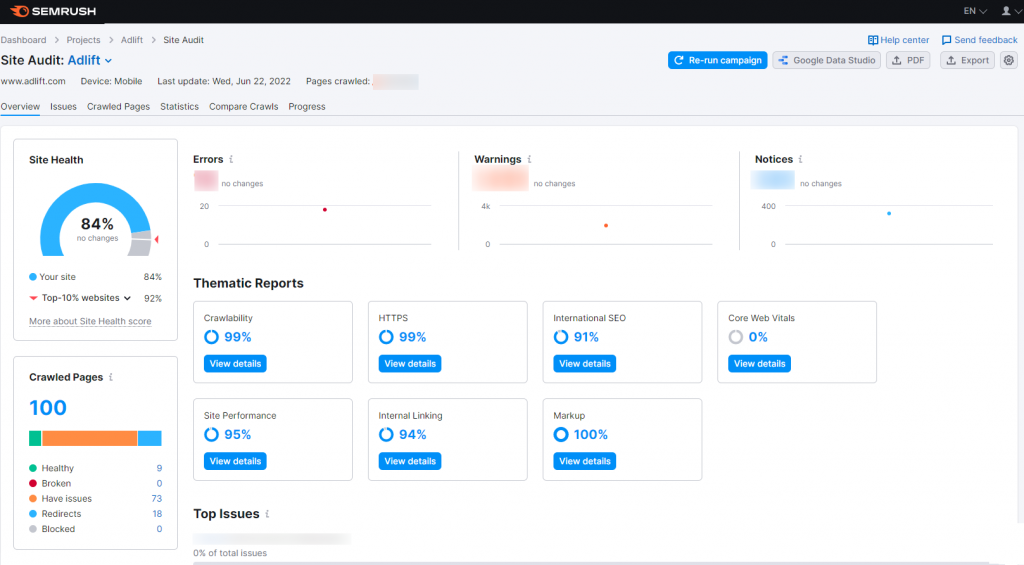 If you've never used an SEO audit tool, it can be overwhelming to get started. But why worry when we've come bearing answers?
Here is a step-by-step guide to using SEMrush site audit.
Head to SEMrush site audit
Click on 'Set Up' project to an existing project or 'Add New Project' at the top right of the screen.
Fill up the fundamental site audit parameters, such as 'Limit of checked pages' and 'Crawl source.'
You won't have to change anything except the maximum number of checked pages, which will vary depending on the size of your site. You might be required to remove URL parameters, bypass limitations, or allow or deny particular things in some cases.
Begin the site audit and let the crawler run. Once the site crawl is done, you will come across a dashboard with the results.
Bottom Line 
SEO is important to improve both the quality and quantity of traffic. It is crucial to increase brand awareness by allowing search engines to crawl and index your website pages without a hitch.
Conducting a SEMrush site audit can help you form a strong strategy for launching a website and is crucial for ongoing success. By finding issues, you can fix them quickly. A site audit is important, and we are here if you need expert help.
We, the SEO experts at AdLift, can help you get great insight into your website's overall health. Get in touch with our expert squad today, and let's work towards expanding your reach with the right SEO techniques.
Get
in Touch
Contact AdLift for a 360-degree marketing plan