Get the Scoop on Google SERP Features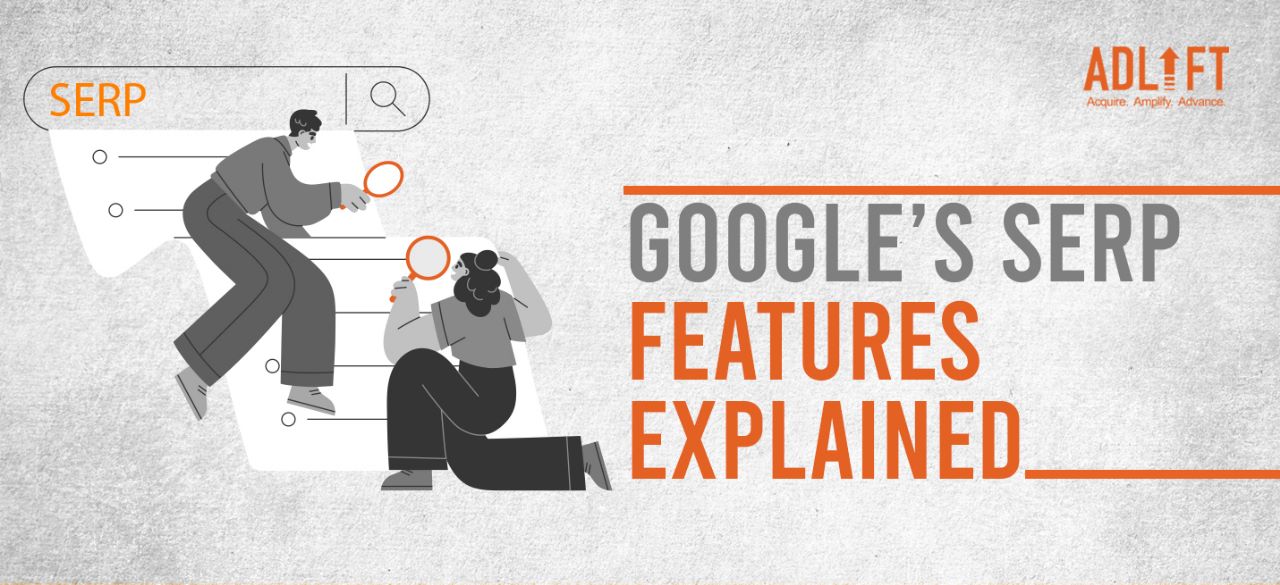 Initially, every search result on Google looked the same, a list of 'blue links', and even though the appearance has not changed much over the years, there has been an increase in non-organic results that pop up on the Search Engine Results Page (SERP).
To optimize the search experience, many SERP features are updated consistently by Google. To explain simply SERP features are the search results you see on a Google Search Engine Results Page, that are usually not organic or traditional.
You might be wondering what makes Google SERP features important. Well, these special elements allow your content to occupy more space and be more visible when people search for keywords specific to your content. This means that you can optimise your website in order to rank higher on Google and give your business more SERP visibility. Pretty cool, right?
Key Takeaways
A SERP feature is any result on google page which is not traditional organic result.
A SERP feature in critical in making your website visible.
There are many types of SERP features such as rich snippet, featured search snippet and video carousel.
SERP features are ever changing to keep up with the demand of the users and hold their attention.
A Brief Insight on SERP Features
When you search for anything on Google, a search results page opens up; this is formally called SERP or a search engine results page. On this page Google's algorithm displays relevant links to websites for your query. These results include both organic links and SERP features.
In the age of information overload, having organic results is not enough, and this is where SERP features come in. As these go beyond organic results and help the users access information they actually need almost instantly.
Why do SERP Features Actually Matter?
As you may have understood already, SERP features matter because they keep your website with relevant information visible. In addition to this, they also maximise your digital assets, this means that you are no longer confined solely to written content. You can include videos, and images that can provide the relevant information to your user.
Google SERP features are about adding value to your online performance with relevant core keywords, and all other digital assets.
Find Out Which SERP Features Your Site Has
Having your site pop up on the Google search engine results page is definitely the goal of every online business. With SERP features making the majority of the results page, it is very important to keep SERP features in mind when you are selecting keywords and optimising your site's content.
You might have to monitor keywords on a weekly basis to keep up with the trends that are ever-changing. In addition to this, with the development of SERP features, it is essential to focus not only on keywords but also on other digital assets like photos, videos, and more.
You can access your reports to understand where your site is ranking and what SERP features are working for you. This will also allow you to point out potential SERP features that you should be optimizing for in order to rank better.
7 SERP Features Which are Most Critical
The SERP features that appear in Google directly affect the way people interact with the search results. There are several Google SERP features that commonly appear on the page. These include AdWords, image pack, featured SERP snippets, in-depth article, knowledge card, news box, and more.
Understanding the Various Types of SERP Features
In today's time it is almost impossible to have Google search results without SERP features. Some of the most critical SERP features are listed below.
Rich Snippet: A title, description, and a link to the webpage are what makes a simple organic search result. However, sometimes you might need additional information to make your site stand out and have more chances of appearing on the results page.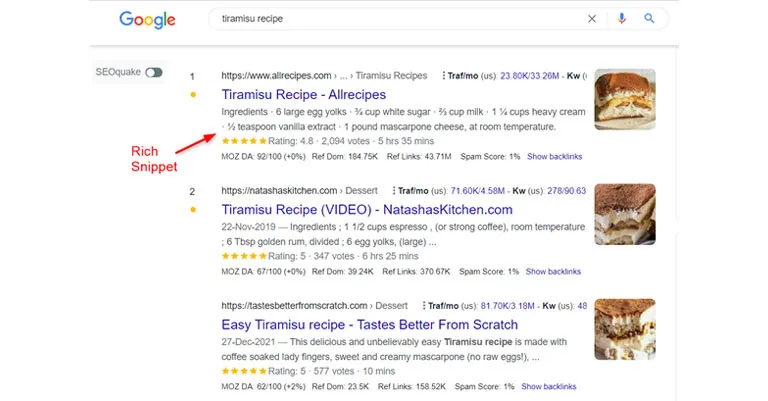 This additional information is what makes a rich snippet. Below the basic elements already present are ratings, prices, reviews, availability of stock, and more. These can increase the likelihood of users clicking on your site's results.
Featured SERP Snippet: While searching on Google, you must have seen large boxes that come up. They usually highlight a section of the webpage and have a section within the search results. In the beginning these were visible at the top of the results page. However, now it may be visible as the second result.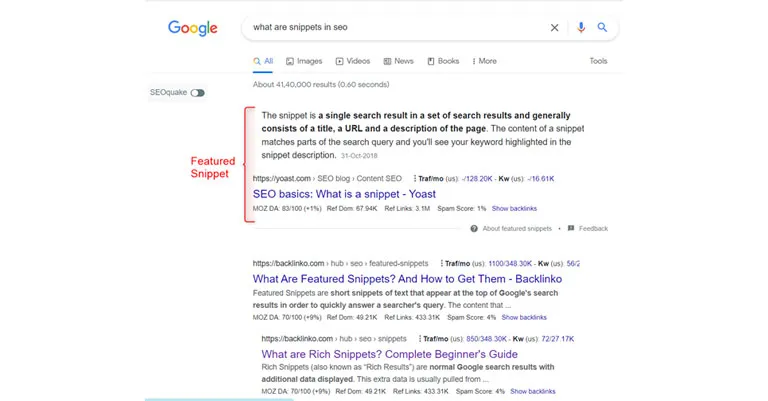 This is a very important SERP feature and gets more than 8% of organic clicks, having a strong impact on organic click-through rate.
People also ask: Many times, we make a vague search on Google, hoping for the algorithm to give the answer we are looking for. This makes the people also ask feature very popular. It is essentially a list of questions that are related to your query.
This drop-down feature is very simple to navigate, you simply click on a question from the list, and the answer from a credible source would appear.
Video Carousels: As the name suggests, this SERP feature is a collection of videos, usually from YouTube. They appear at the top of the page so that more people can click on them. It has gained traction and rather than being 3 static videos like the earlier days, you can now click through and view up to 10 video results.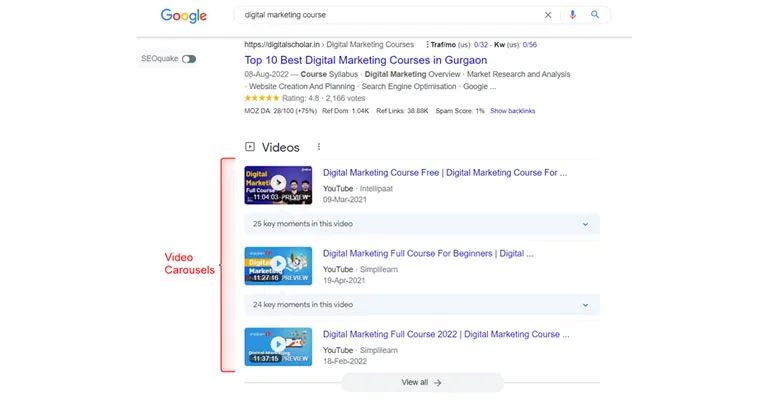 Google Posts: One of the most unique Google SERP features are google posts, these are essentially social media posts for SERPS. These are dynamic and can include both audio and visual data including images, text, and videos.
The premise of this SERP feature was to give real time updates about brands which is why they are connected to the brand's knowledge panel. Within minutes of publishing, these become visible on the SERP.
Top Stories: Previously known as 'in the news', this SERP feature essentially includes news articles about your searched topic from trusted sources. However, this SERP feature only comes up when you search for something that people are talking about and has media attention in real time.
Local Knowledge Panel: These are specific features of the knowledge graph. They display information like the regular knowledge panels but have specific information like location, hours of business, contact, Google maps, and more.
This SERP feature usually comes up when you are within the locality of the business you are searching for.
Why do SERP Features Change Each Year?
Like everything else, SERP features are ever-changing. As mentioned above, previously SERP only included simple blue links. But with the need for instant answers, and quick results, the page has moved from a set of simple links to SERP features like photos, video carousels, ads, featured snippets, and more.
Today, these search engines have become a place to get direct answers, without having to click through to another website. This has become possible with SERP features like knowledge cards, 'people also ask', and featured snippets. Having impacted organic traffic tremendously, SERP features are quickly taking over organic listings.
Google SERP features are changing each year to keep up with the demands of the consumers, and the need to satisfy audiences short attention spans. In order to stay on the top of the SERP, companies will have to keep up with the trends, and adopt new marketing strategies to stay visible and relevant.
Conclusion
There is no doubt that different businesses would require different SERP features to become more visible. Whatever your users may be looking for; we are sure that there is a SERP feature that could help your content have better results than others.
It is not about increasing the length of your content with targeted keywords only, but it's about optimising your business as a whole. This would allow you to take advantage of the biggest SEO opportunities while also satisfying all queries that your user may have. It is normal to feel overwhelmed by having to optimise various SERP features by Yourself, that is why such things are best left to the professionals. At AdLift, we tailor SEO strategies, including SERP features, best suited to your needs.
Get
in Touch
Contact AdLift for a 360-degree marketing plan