White Hat SEO Strategies: Your Ticket to Sustainable Online Growth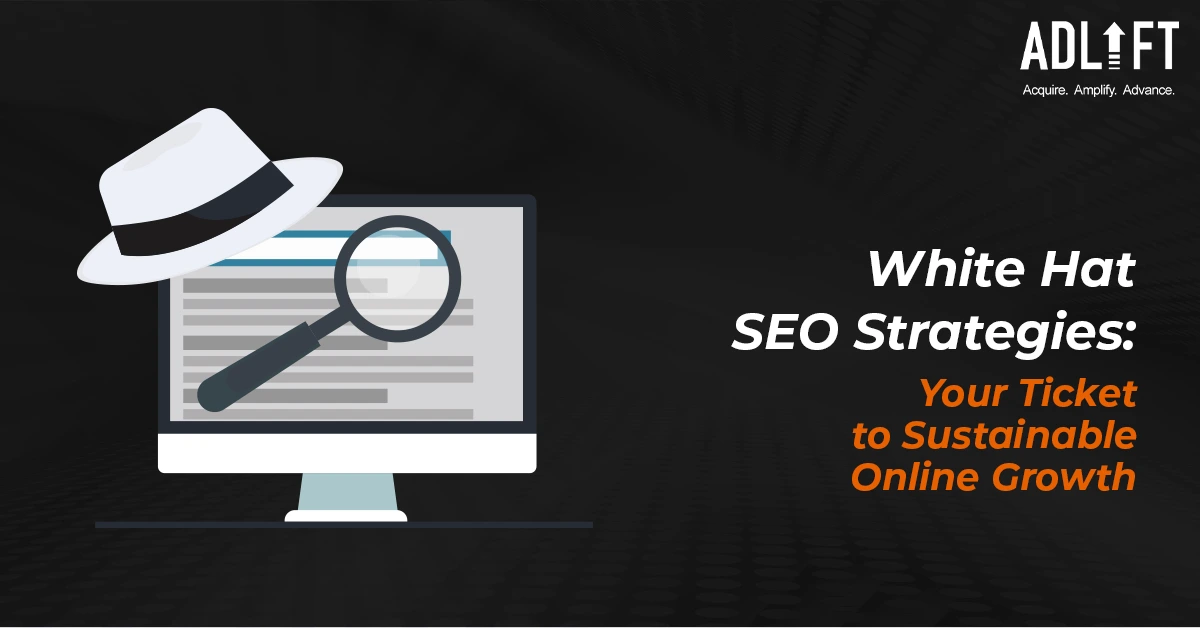 In an online landscape, every business is in the queue to outperform its competitors using search engine optimization (SEO) tactics. Many businesses consistently rank higher on Google's Search Engine Results Page (SERP). Do you know what their secret is?
White Hat Link Building!
It may be regarded as an underrated approach in SEO, but studies say that more than 55% of businesses have invested in white label link building solely in 2023.
To leverage White label SEO services, partnering with a White Label SEO agency is a wise decision. It ensures the success of businesses in the long run with the desired credibility in the digital space.
Let's dig a bit deeper  to better understand what is White Hat SEO and the strategies to implement it. Continue reading!
What is White Hat SEO?
White Hat SEO is an ethical practice used by marketers to improve search engine ranking while adhering to Google's guidelines. You would be surprised to know that implementing this technique has the potential to double, triple, or increase your website traffic by 10x.
For White Hat SEO practice, businesses prioritize user experience and emphasize offering valuable, high-quality content to their users.
Actionable White Hat SEO Techniques to Rank Higher
In a flourishing digital space, learning what is White Hat SEO and adapting to its strategies is crucial to increase user engagement and maximize profitability. Remember, this practice is applicable to Google and extends to other search engines, such as Yahoo and Bing.
To rank consistently on the first page of search results, you can follow the below White Hat SEO strategies:
Be More Attentive During Keyword Research
Before following any strategy and learning what is White Hat SEO, it is essential that you conduct a comprehensive research to understand what your users are looking for. Businesses must focus on high-value or long-tail keywords with comparatively lower competition but higher search volume.
To match Google's algorithm, incorporate the keywords in different parts of your content:
Meta tags
Headings
URL slug
Body of the content
Infusing the target keywords in these elements of your web page allows search engines to sync your business purpose and information on the content better.
Ensure Offering High-Quality Content
It is said that 'Content is the king'. Indeed! You don't just have to create content but make it valuable, informative, and engaging enough to meet the needs of your target audience. In search engine crawling, the websites or businesses that provide unique and quality content to their users enjoy more priority.
Moreover, it is essential that you keep updating your existing content while adding fresh posts. To increase the retention rate, you can leverage White Label SEO services.
Engage Actively for On-page Optimization
If you want to enhance your search engine friendliness, it is essential that you engage in optimizing your on-page elements. Compelling meta titles and meta descriptions for individual pages with appropriate H1, H2, and H3 tags with organized content enhances the readability of your content.
Make Your Website Mobile Friendly
Reports say that nearly 60% of Google searches are performed using mobile devices. It is essential that you focus on increasing mobile friendliness. This practice not only improves user experience but also contributes to increasing the ranking of your website on the web. Are you still experiencing second thoughts about what is White Hat SEO?
Optimize Site Speed and Performance
Improve your website's loading speed to enhance user experience and search engine rankings. If there are large-sized images on your website, compress them, enable browser caching, and choose a reliable hosting provider to optimize your site's performance. Faster-loading websites are more likely to rank higher in search results.
Build High-Quality Backlinks
Rather than practicing Black Hat SEO (unethical SEO practice) or deceiving search engine's guidelines, focus on earning natural and high-quality backlinks. You can get them from authoritative and relevant websites in your industry.
For backlinking, your website must have quality content to compel others to offer backlinking. This process also helps you transfer their website authority to your website, driving more traffic.
Final Thoughts
Implementing ethical practices is the only way to win in an online space and boost your presence. When you understand what is White Hat SEO, you prioritize its essence in your SEO strategies. It is an essential online approach to attain sustainable online success.
Long-term SEO success is not a quick fix, but White Hat SEO helps you build trust, credibility, and long-term growth for your website. To understand what is White Hat SEO, connect with the professionals at Adlift. We are a growing digital marketing agency offering businesses advanced SEO packages to accelerate their online growth.
If you are looking to scale your business, contact our team right away!
FAQs
Marketers must be well aware of what is White Hat
SEO
. It focuses on following search engine rules and providing valuable content to users, while Black Hat SEO employs deceptive tactics and violates search engine guidelines. This unethical behavior may help businesses achieve quick rankings but results in penalties and long-term harm to a website's reputation.
Common White Hat SEO techniques include keyword research, high-quality content creation, on-page optimization, mobile responsiveness, white label link building through valuable content, site speed optimization, and other strategies. You can work with a white label
SEO agency
to manage and monitor your website responsibly.
Yes, White Hat SEO may take longer to yield results than Black Hat techniques that try to manipulate search engines. However, a White Hat SEO company ensures sustainable growth, long-term rankings, and a positive website reputation. For visible results, engage in white label link building right away!
Content creation is a basic aspect of White Hat SEO. Providing valuable, informative, and engaging content attracts users, encourages natural backlinks, and improves search engine rankings. You can seek help from a White Label
SEO Agency
to boost your business.
Yes, guest posting on reputable websites in your niche, providing valuable content, and earning backlinks is a legitimate White Hat SEO practice. It helps you establish authority and credibility in your industry. For a better approach, collaborate with a White Hat SEO company.
Keyword Research
Research thoroughly to choose the keywords with higher search volume that align with your services.
High-Quality Content
Ensure providing high-quality content to keep the users engaged throughout the content on your web pages.
Active On-Page Optimization
Optimize content with appropriate H1, H2, or H3 tags and catchy meta titles and meta descriptions.
Mobile Friendliness
Increase the mobile-friendliness of your website for easy navigation for your target audience.
Site Speed and Performance Optimization
Manage the elements like image size to increase your website speed and performance.
Build High-Quality Backlinks
Earn credible backlinks from the website with higher page or domain authority.
Get
in Touch
Contact AdLift for a 360-degree marketing plan