Canonicalization for SEO: All you need to know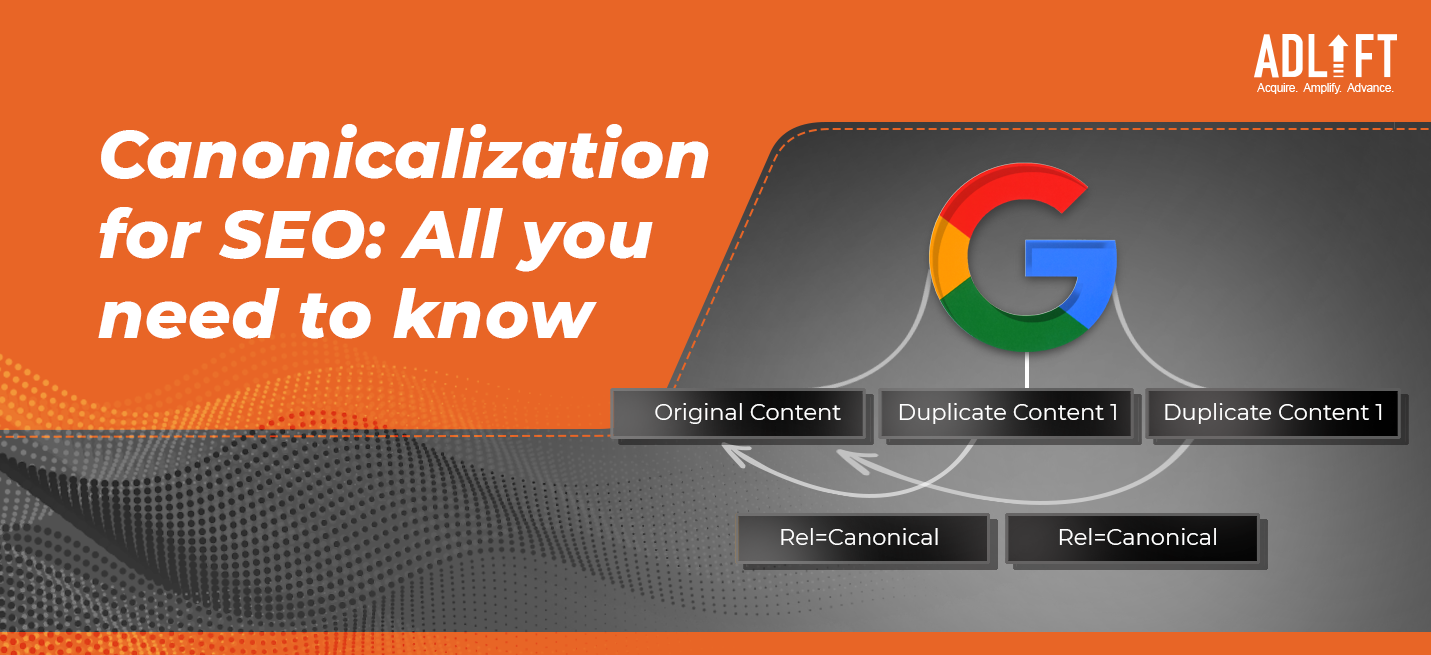 There's a lot of duplicate content out there on the internet. Sometimes it's intentional — low-quality content is sometimes used to score a nifty site ranking on search engines. Unfortunately, this almost never works out in the long run: search engines eventually catch on and throw consequences at site owners in the form of penalties.
Sometimes this simply is a natural side effect of content creation on the internet, from bad technical implementation to even accidents. In such contexts, it's imperative that search engine crawlers be able to identify and rank original content instead of any duplicates. When you don't have a clear marker for your original content using canonicalization, you might end up in sticky SEO situations. Canonicalization essentially tells Google here's where the original content is and allows you full control over any duplicate content.
What is a Canonical Tag?
Google, the kingpin of search engines today, has repeatedly stated that it privileges excellent user experiences and high-quality content above all else. One of the most important ways it does this is by giving prime importance to original content and to its creators. It naturally follows, then, that old or stolen content will be penalized.
For a website owner, this may pose a problem even if all your content is entirely original and created by you. How so? Let's say you use pages with different URLs that feature the same or similar content. Or alternatively, you use redirects so that multiple links lead to the same page. Without a canonical tag and canonicalization, search engines might get confused and pick one as the original, causing other pages to be flagged as duplicates.
A canonical tag allows you to mark a particular URL as the Real One, that is, the original source. A canonical tag in HTML has this attribute: rel= "canonical," which allows search engines to see that this is the canonical or authentic original page. Canonicalization essentially lets you make that choice instead of leaving it up to the search engine.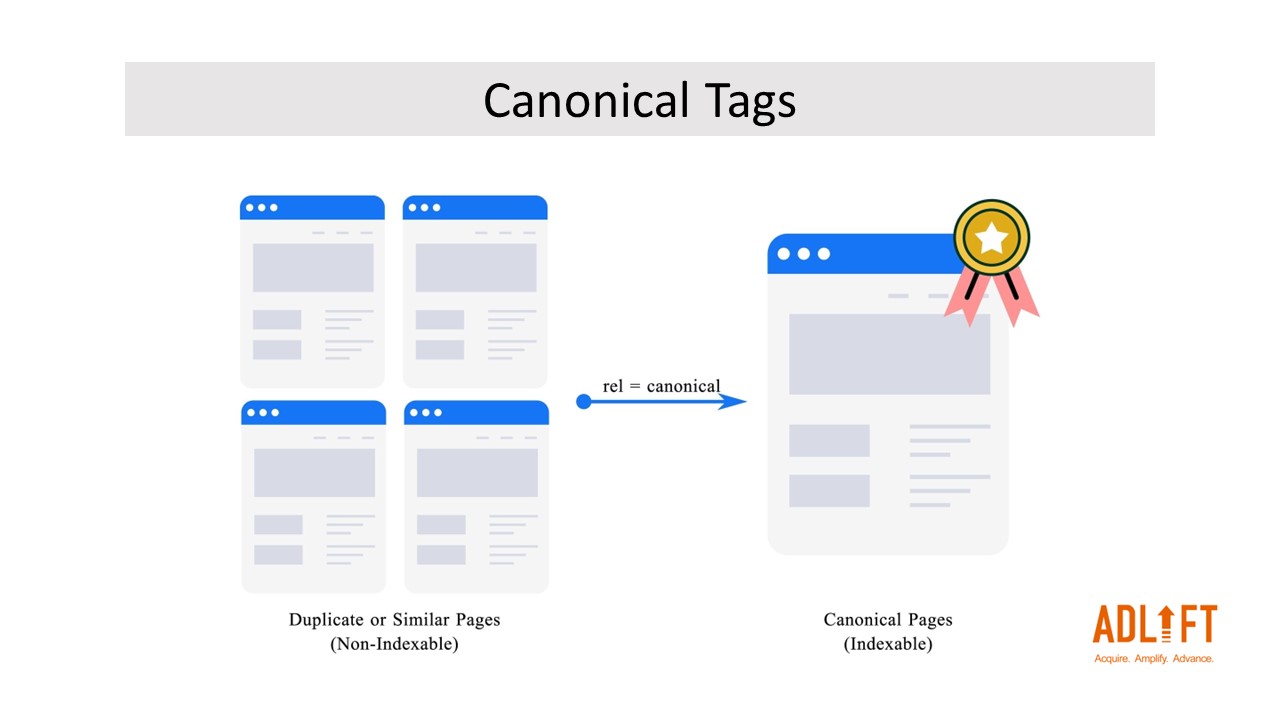 Why are Canonical Tags Important for SEO?
Sounds rather complicated, doesn't it? Why should you even consider getting involved? There are some pretty good reasons to get your hands dirty with canonicalization.
Consolidation Of Pages and Link Juice
Canonicalization tells your link juice where to go. In other words, all the nice benefits you get from a great link profile get streamlined and sent to your One True Page: the one with the canonical tag. As you likely already know, a great link profile can do wonders for your SEO ranking in the long run.
Republished Content Through Syndication
Syndication refers to cross posting or reposting content on new websites to attain broader reach. For instance, you might guest blog for another website and post a copy of the same post on your blog for your audiences as well.
Canonical tags in HTML tell the search engine what the original source of the content is and where the promotional and syndicated content is. This lets all the SEO benefits of the content go where it should while avoiding penalties for apparently duplicate content.
Play Nice with Search Engines
Canonicalization through canonical tags allows you to speak the language of search engines. It communicates directly with search engines to let them know where they should focus their time and attention, allowing you to reap any consequent SEO benefits.
When to Use Canonicalization?
Alright, you're in, you say. But when exactly should you be using canonicalization?
When You're Reposting Content
Your content strategy may involve reviving and reposting old content posted on your website. If that is the case, make sure you add a canonical tag in HTML to the reposts, so search engines know this isn't just plagiarism.
When You're Using Multiple Versions or Variations of A URL
If you're into makeup products, for instance, you might find lots of similar content spread across webpages. You might also have redirects set up so multiple URLs lead to the same webpage. In these contexts, make sure you add a canonical tag for search engines to know which the original page is.
When You're Posting Syndicated Content
As explained earlier, syndicated content — content reposted in multiple places — is an excellent example of the necessity of canonicalization. When you use a canonical tag in this context, you can rest easy knowing your SEO ranking and performance is safe.
When You're Testing Webpages
Make sure you include canonical tags if you're testing your website design live to ensure that search engines are crawling where they should be.
How to Canonicalize Your Website URL?
While the process and all this talk might certainly make the process of canonicalizing your website seem intimidating, the process is quite simple.
You'll begin by identifying where all your website needs canonicalizing. This will involve undertaking a thorough check of duplicate content, from main copy and headings to images and descriptions. You can also use a tool like Dupli Checker to help you out here.
Once you know where your duplicate content is, you'll need to go over your list and pick The One True Version, or the canonical version. Once you've made this choice — ideally the one with the best links and the maximum traffic, you'll add the canonical tag in HTML on your page.
You can confirm your site has been canonicalized by inspecting the live code of your webpage on your browser. Once this is done, you can quickly put in a request to your search engine to index this page.
And voila, your webpage has now been canonicalized!
Conclusion
Canonicalizing your webpages can be a tricky business, especially if you're unfamiliar with canonical tags in HTML. The technical side of things aside, you also have important choices to make, such as deciding when a page needs to be canonicalized and which page should be chosen as the canonical one.
When you take the leap with a reputed digital marketing agency like AdLift, you can leave all the nitty gritty work of canonicalizing your online presence to the experts and focus on what really matters: running your business and creating great content.
FAQs
What does canonicalization mean?
Canonicalization involves pointing search engines to the correct "standard" webpage in case there are multiple versions of it out on the internet.
How does canonicalization work?
Canonicalization makes use of the canonical tag in HTML — rel canonical — to indicate to search engines that this particular page is the 'The One True Page.'
Where is canonicalization used?
Canonical tags are used when there are multiple duplicate versions of the same page in existence on the internet.
Why is canonicalization important?
Canonical tags mark out unique content; this is integral in the context of SEO, so you don't accidentally get penalized for duplicate content.
What is a canonical tag used for?
A canonical tag in HTML indicates to search engines which pages it should display in its list — sort of like a pick me sign. This allows search engines to offer the right copy to searchers instead of a duplicate or clone.
Get
in Touch
Contact AdLift for a 360-degree marketing plan