Unleash SEO Power: Must-Have Chrome Extensions for Website Success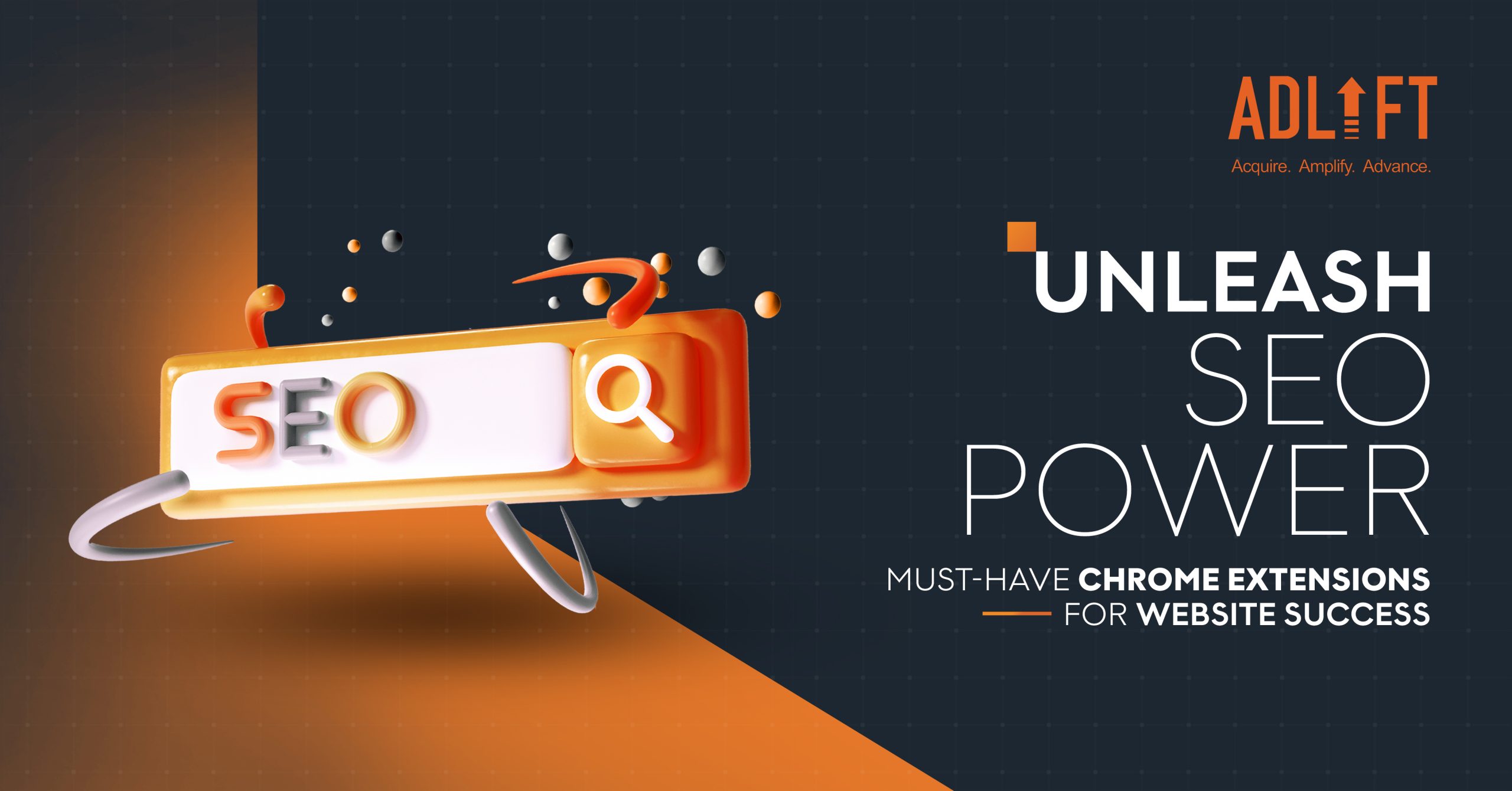 Many platforms may come and go, but the key to growing a website remains the same everywhere. Do you want to know what it is? Well, the answer is three simple letters: 'SEO.' It sounds simple, right? Using a few keywords here and there, and your website is optimized. Well, not really.
SEO is a crucial concept to understand to achieve online success. Implementing proper SEO practices and using the best SEO extensions are the key strategies for driving growth and attracting organic traffic. Now, the question arises: What does SEO actually mean? Is it search engine optimization, or is there more to it? Let's find out.
What is Search Engine Optimization (SEO)?
The definition of SEO varies from one digital marketer to another.. We at AdLift define SEO as an optimization practice that helps your website grow in multiple aspects according to the search engine's ranking factors. Our tailored strategies are crafted keeping each client's expectations  in mind.
It is imperative to understand the true essence of SEO, which comes after years of practice and perseverance. Since there are numerous top SEO extensions available in the market today, it is vital to understand the use and impact of these best SEO extensions.
Understanding the Impact of Chrome Extensions on SEO
SEO or Search Engine Optimization stands as one of the foundational pillars for any website's growth strategy. From content visible on the page to the website's offpage activities, SEO is a practice that entails working on everything. Its two major classifications are Onpage and Offpage. Now, while we discuss SEO as a crucial practice in the digital marketing landscape, one can also witness many revolutionary updates. Hence, it is crucial to always stay alert. After all, it is the competition driving innovation, and the best SEO Chrome extensions are proof!
Though every SEO team has its way of utilizing these free SEO Chrome extensions, their benefits are more or less the same for everyone. Best SEO Chrome extensions can possibly save you tons of time. It can be related to abstracting insights, monitoring data, doing its analysis, and much more. Google's browser, Chrome, offers a plethora of top SEO extensions that are free for Search Engine performers. They help enhance your SEO performance, making your website appear more credible to the crawlers while uplifting your SEO game.
Now, let's understand more about these useful and free SEO Chrome extensions.
How to Select the Right SEO Chrome Extensions
As the saying goes, "With great power comes great responsibility". While there is an array of best SEO Chrome extensions available, it is essential to choose wisely. Every free SEO extension for Chrome has a specific task. Therefore, consider every factor before cluttering your browser with multiple best SEO extensions. After all, they can negatively impact, causing a slow workflow. Some factors to consider are:
User reviews,
Developer credibility, and
The specific features each extension offers before adding them to your arsenal.
Choosing the appropriate set of best SEO Chrome extensions is a very crucial step for Search Engine performers. Here are a few key factors to consider while making a selection:
Know Your Goal
The foremost thing is to actualize the purpose of using these best SEO extensions. They must align with your SEO goals, whether it's keyword research, on-page optimization, or backlink analysis. Opting for relevant and best SEO Chrome extensions that cater to your specific needs is essential. As a result, it will not only make your work streamlined but more efficient.
Research Credibility
Not all free SEO Chrome extensions are fit for use. It is highly advised to check their user reviews and ratings on the Web Store prior to installing. You wouldn't want traffic of additional free SEO extension for Chrome instead of web traffic on your website. Insights from other users in such cases offer a valuable detail and practical understanding of the extension's reliability, effectiveness, and potential drawbacks.
Features and Usability
Assess the features and usability offered by each free SEO Chrome extension. It helps ensure that these best SEO extensions provide the functionalities you require. Moreover, knowing the features of the best SEO Chrome extensions gives knowledge about their interface.
Premium or Free
Consider whether a free SEO extension for Chrome offers both free and premium versions. Ultimately, choosing the best SEO Chrome extensions requires striking a balance between your specific needs, extension features, user feedback, and compatibility.
Now that you have learned about how to select the right set of best SEO extensions, read on to learn more about how it helps.
Mastering Keyword Research with Extensions
Without any doubt, the use of the best Chrome extensions for SEO practices, like keyword research, has been completely transformed. Previous approaches were time-consuming, as it took effort to comprehend between aspects like competition and search volume, long and short tail, etc. Using a free SEO extension for Chrome has given a new direction to the keyword research game. Best SEO extensions like MozBar, UberSuggest, Keywords Everywhere, etc., have streamlined the work.
Utilizing SEO Auditing Extensions
Harnessing the power of the best Chrome extensions for SEO auditing has several benefits. While saving hours in checking every minor detail, it has made the lives of Search Engine performers easier. Besides, utilizing the set of best SEO extensions allows one to unleash the true power of SEO. Some of the best SEO Chrome extensions used for website auditing are WooRank, SEO Stack, SEO Quakes, etc.
Monitoring and Analytics Extension
These free SEO Chrome extensions are included in the list of top SEO extensions. They are indispensable companions for a Search Engine performer in the digital world. The set of best SEO extensions for monitoring and analytics helps offer a comprehensive view of a website's performance metrics. As a result, they assist in making informed decisions by tracking key performance indicators such as traffic, engagement, and conversion rates. Moreover, real-time monitoring empowers one to identify issues swiftly, ensuring the website operates seamlessly. Below are a few names of top SEO extensions for monitoring and analytics:
Site Analysis
SEO Analysis & Website Review by WooRank
Google Analytics
Stay Current with Algorithm Updates
Search engine ranking factors constantly change. Therefore, it is paramount for Search Engine performers to keep their eyes and ears open for any updates. You never know when the search engine may roll out its new algorithm update. However, it is necessary to understand that no one reveals their algorithm. The key is to stay in the loop for any updates that may impact your website's visibility and rankings. Moreover, you can find a set of best SEO extensions for timely notifications and insights into the latest algorithm shifts. Besides, embracing algorithm-tracking extensions can be a smart move for any SEO practitioner to navigate the ever-evolving digital landscape successfully.
Chrome extensions have revolutionized the way we approach SEO practices. With just a click, they can provide access to a wealth of information and tools that would have taken hours to compile manually. From analyzing keyword performance to assessing website health, these extensions are a game-changer for marketers seeking to optimize their digital presence. At AdLift, we embrace the use of extensions and have our own arsenal of the best SEO Chrome extensions. If you are up to winning the SEO battle, contact us today!
FAQs
A: Yes. Using SEO Chrome extensions from reliable sources, such as the Chrome Web Store, ensures the safety of its extensions. The key is to research their reviews and check permissions and developer details.
A: The purpose of utilizing the best SEO extensions is to improve the search engine ranking of a website. It is only possible by making use of the extensions with ethical and strategic SEO practices.
A: Yes, one can use a complete set of extensions simultaneously. For example, one for keyword research, site auditing, monitoring and analysis, site health check, etc.
A: There are a plethora of Chrome extensions available on the Web Store, which are both free and premium. Some of the best SEO extensions have limited free versions along with paid features, while some are completely paid.
Get
in Touch
Contact AdLift for a 360-degree marketing plan