Target your Converting Customers with the right LinkedIn Ads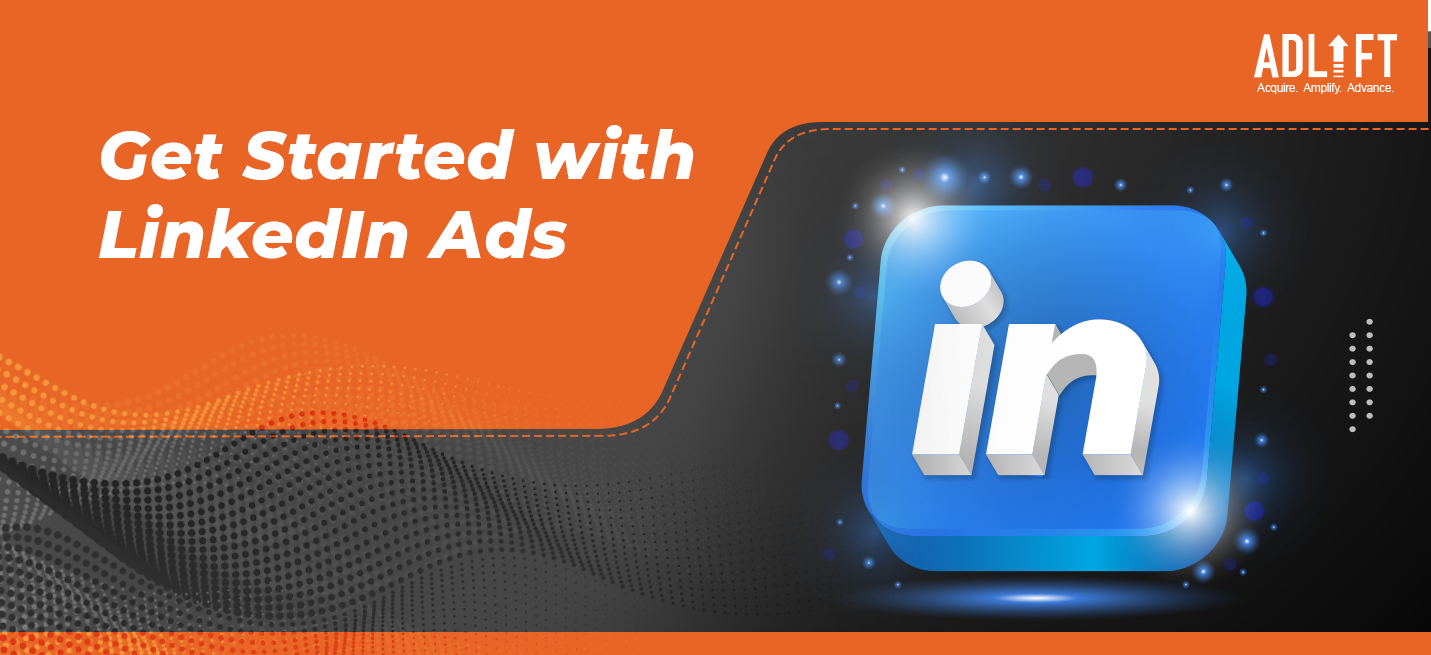 The internet is a pretty noisy place, and if your online presence involves any work on the choppy seas of social media, it can often feel like you're shouting at the world, but no one seems to be listening. With a carefully considered social media strategy — including LinkedIn ads — however, you can ensure that the right people find you precisely when they're looking for you. LinkedIn, in particular, is a network of professionals who are in the thick of making business decisions.
Types of LinkedIn Ads
Before you jump right in and start brainstorming ideas for LinkedIn ads with your marketing, take a moment to learn about your options — because you have many! There are a number of different types of LinkedIn ads you can choose from, such as:
Sponsored Messaging
Sponsored Messaging — previously called Sponsored InMail — essentially allows you to reach out to your target audiences directly through their inbox through a one-on-one conversation. This is a great way to reach out directly to your audience.
Sponsored Content
This is your usual, run-of-the-mill LinkedIn ad which boosts your posts. It shows up on other users' LinkedIn feeds. They're labelled "promoted" to ensure people know what they're looking at.
Sponsored content on LinkedIn advertising can take the form of single-image ads, LinkedIn video ads, or even carousel advertisements.
Dynamic Ads
Dynamic ads are a particularly versatile kind of LinkedIn ad. Why, you ask? They use personalization, drawing from individual users' personal details to create ads tailored to them specifically.
Text Ads
Text ads are one of LinkedIn advertising's cheapest offerings and are a fantastic choice if you're on a smaller LinkedIn ad budget. They're also an extremely efficient way of casting a wide net on a social network with an almost entirely professional user base.
Objectives of Different LinkedIn Ads

LinkedIn ads — including LinkedIn video ads — use objectives to frame their ad campaigns, asking advertisers to specify what they want out of LinkedIn ads, from building awareness about your business or product to converting users. Here's a quick look at all the objectives you can opt for with LinkedIn ads.
Awareness LinkedIn Ads
It is used to reach and get more followers, views, and engagement, these ads are great for building brand awareness, just as it says on the tin!
Consideration LinkedIn Ads
It can be used to reach people who already know about your brand but might be interested in taking a deeper dive into what you do. This kind of LinkedIn advertising can help you get more visits to your website and can boost your engagement.
Conversion LinkedIn Ads
It is great for when you want to seal the deal with your customers, conversion ads can help you generate leads and achieve excellent website conversions. On LinkedIn advertising, in particular, conversion ads are also great if you're looking to employ more people on your team.
Different LinkedIn Ad Formats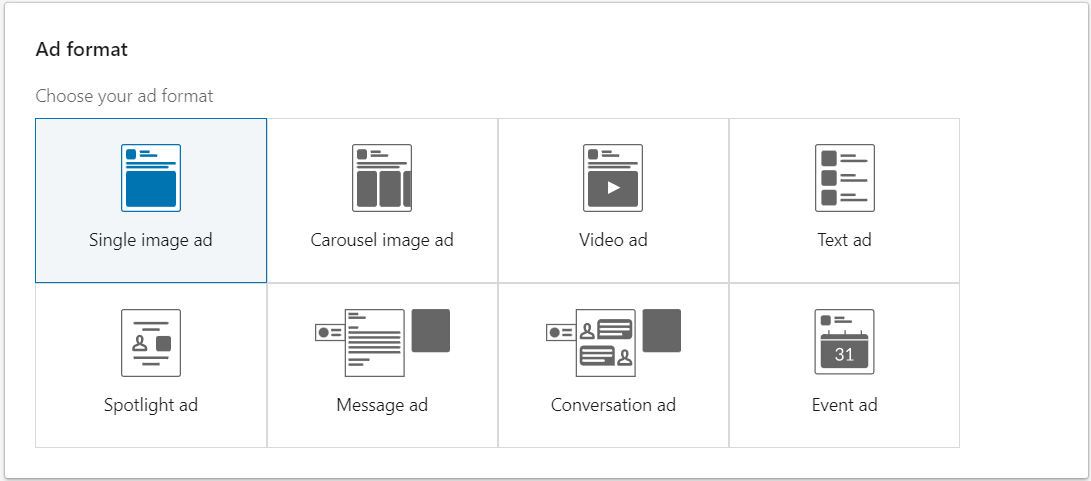 LinkedIn advertising, as you've probably gathered by now, is quite a comprehensive advertising framework. Along with the many tools and types of LinkedIn ads, you also get to take your pick from different formats for LinkedIn Ads. We've summarized some of them for you here — along with when you should consider using them!
Carousel Ads
Carousel Ads are a row of image and visual that can be swiped through like a carousel! These are great if your LinkedIn ad has a strong visual component to it.
Conversion Ads
Conversion Ads on LinkedIn advertising are interactive ads that allow users to interact with your content. Great for driving sign-ups and other kinds of responses.
Message Ads
Message Ads are great for that extra personal touch; given that most users inevitably open the messages in their inbox, this can be a very effective choice of LinkedIn ad for many of your needs.
Text Ads
Text Ads are one of the most cost-effective forms of LinkedIn ads today. They resemble text posts on the platform and are great for driving website conversions.
LinkedIn Video Ads
LinkedIn Video Ads are fantastic for short-form video ads you can use to highlight your content through thought leadership and even reveal new products. The ideal length for LinkedIn video ads is around 15 seconds — short and sweet.
Creating Impactful LinkedIn Ads for Your Business
As is always the case in the digital marketing world, there is no one size fits all solution; there are, however, some tried and tested things you can do to create clear and effective LinkedIn ads.
Have a clear sense of your audience and tailor your message to them.
When you clearly define who you're speaking to, you'll find that the rest of your messaging will fall into place. LinkedIn lets you cast a wide net, from geolocation data to specific job titles.
Keep it short and clear in your call to action.
Your CTA can be your greatest ally on LinkedIn if you keep it clear, concise, and compelling — don't patronize your target audience by wasting their time! Tell them what you can do for them and tell them how to reach you.
Variety is the spice of LinkedIn advertising.
Switch it up with rich media such as audio, video, and text. Make sure your content is easy on the eyes and allow it to speak for itself by showcasing what you uniquely bring to the table with your brand.
Keep an eye on the purse strings.
Budget carefully — LinkedIn ads are versatile enough that even a little can go a very long way in the long run!
Conclusion
LinkedIn ads aren't like the advertising systems offered by other social media platforms. While there is a bit of a learning curve involved due to the complexity of the framework, LinkedIn advertising can be invaluable to your digital marketing strategy because of the people it can help you reach.
LinkedIn is ultimately a social platform for professionals — often the very people who are tasked with making business decisions! When you partner with an experienced digital marketing agency like AdLift, you get a one-stop solution tailored to your needs to help you make the very best of the immense potential of LinkedIn advertising.
FAQs
What are LinkedIn ads best for?
LinkedIn advertising is best suited for ads related to job recruitment, services and promotions, and lead generation. It's also an excellent choice for highlighting thought leadership content.
Are LinkedIn ads free?
No. Experts estimate a cost of about 5 USD per click or 7 USD per 1000 impressions. While the cost is higher than many other platforms, for many businesses, it's worth it.
Are LinkedIn ads worth it?
LinkedIn advertising is an excellent way of building a strong link profile and creating new leads. However, the ultimate fit depends on many factors — and there can never be a clear yes or no answer without accounting for your specific needs.
How much should I spend daily on LinkedIn ads?
The minimum budget required for LinkedIn ads is 10 USD or Rs. 500 INR a day.
How successful are LinkedIn ads?
LinkedIn ads can be extremely successful in bringing in new leads and conversions. The caveat, of course, is that they must be done well!
Get
in Touch
Contact AdLift for a 360-degree marketing plan